Home > Know Sundarban > Tourism in Sundarbans
Last Updated On: 03 Oct 2020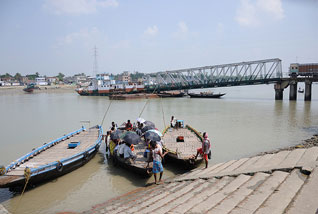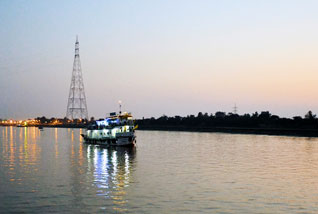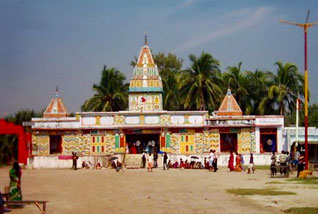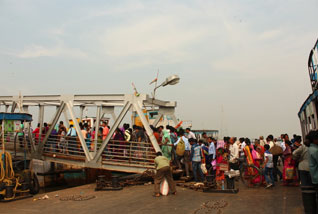 Tourism
The luxury tours to the Sundarban carry on the year round, and the monsoon holds its own magic over tourists on the expanse of the Sundarban, September and May is the most likely time for tiger-sighting.
Namkhana
Namkhana is located on one of the many deltaic islands spread across southern Bengal. Most of the islands are part of the Sundarbans, barring a few at the fringes. Some of these are joined together with bridges over narrow creeks. This small island juts out into the vast expanse of the Bay of Bengal. Namkhana comes under the subdivision of Kakdwip in district of South 24 Parganas in West Bengal, India; and consists of 07 Gram Panchayats (e.g. Budhakhali, Frezargang, Haripur, Moushumi, Namkhana, Narayanpur and Sibrampur) and 39 Villages.
Namkhana Block with an area of 370.61 sq km lies on the south-western corner of West Bengal. It is connected with Kolkata by overall 132 km long all-weather road and severs by a ferry service over 150 m of water separating the island of length 27 km from the mainland. The population of the block is about 1.6 lakhs and the total number of households are 29007 with population density per Sq. Km nearly 433 (2001 census) in 39 villages engaged mainly in agriculture and fishing.
Sagar
Sagar Island (also known as Gangasagar) lies on the continental shelf of Bay of Bengal about 150 km (80 nautical miles) south of Kolkata. It belongs to the Republic of India and is governed by the State government of West Bengal. It has a population of about 1,85,644 living in about 44 villages. The area of Sagar island is approximately 504 km².
It is also rich in mangrove swamps, waterways and small rivers. This island is a famous Hindu pilgrim place. Every year on the day of Makar Sankranti (14th of January), millions of Hindus gathered to take a holy dip in the confluence of Ganga and offered puja in Kampil Muni Temple. West Bengal government is planning to build a deep water port in Sagar Island.
Sagar Island can be crossed by vessel and Sagar & Ganga meeting point can be reached via State & Private buses & taxis also which are charging between INR 450 to INR 700 generally and it takes about 40 minutes to reach point.
Sagar Island can be approached from either Harwood point or Namkhana. Both the points are linked by Calcutta State Transport Corporation (CSTC) or West Bengal Surface Transport Corporation buses. Distance of Harwood Point is around 80 Km. from Kolkata and Namkhana is 13 Kilometers more. Bus fare from Kolkata to Namkhana is around Rs.40 (as on June 2005).
Both the points Namkhana and Harwood Point can be reached by train from Sealdah Station. There are direct trains to Kakdwip from Sealdah Station with link trains to Namkhana. Train fare upto Kakdwip is Rs. 18 only. From Kakdwip, Harwood Point is only 5 Km. and Namkhana is 12 Km. by bus or jeep.
To reach Sagar Island one must cross the Muriganga river/creek by ferry service. Ferry service is available at Harwood point and controlled by West Bengal Surface Transport Corporation. Frequency of crossings is more in Harwood point and it is once in every half an hour. The fare for a single crossing for a person is Rs. 6/- as on December 2005. The fare increases at the time of Ganagasagar Mela (The Fair).
After reaching Sagar Island one have to cross the whole stretch of Sagar Island (32 Km.) by State local bus or shared taxi. Fare should be around Rs.10. There is no accommodation available on the point of crossing (Kachuberia), so everybody have to travel the whole stretch of the Island and reach the southernmost part, where accommodations are abundant.
Except from Namkhana and Harwood Point, there is also a direct ferry service available to Kachuberia (Sagar Island) from Haldia.
It is possible to go the entire length by private car or hired car from Kolkata. At Harwood Point there is provision to transport vehicle with the help of a barge locally known as LCT. There are no fixed time for the crossings, because it is totally dependent on the water-level and thus, on the tides. The charge for a light or medium vehicle is Rs. 250/- as on December 2005. The fare increases at the time of Ganagasagar Mela (The Fair).
Kapil Muni temple at South Sagar.
Fairgrounds at South Sagar.
Sea beach at South Sagar.
Sagar Marine Park at South Sagar.
Sagar Lighthouse of Kolkata and Port at Beguakhali.
Ramkrisna Mission Ashram.
Sushama Devichowdhurani Marine Biological Research Institute. (SDMBRI) at Bamankhali.
Long stretch of mangroves near Chemaguri.
There are many cheap rice hotels all over the Sagar Island, serving good quality Bengali food to the visitors. For accommodations, are too many places to choose from in South Sagar. Some are named below. In the time of Sagar Mela or the Fair, the number of accommodation increases drastically with temporary camps/hutments from many commercial and non commercial organizations. It is advisable to book your accommodation prior to go to Sagar Island in the time of Sagar Mela.
The following organizations provide shelter for tourist and pilgrims round the year:
State Youth Hostel- Charge for a Double bed room with attached bath is Rs. 100 per day. Chek in time is at 12 noon. (Booking can be done in Directorate of Youth Services, 32/1, B.B.D. Bag (South), Calcutta - 700001. Ph: +91 2248 0626.)
Bharat Sevashram Sangha.
Larica Sagar (Tourist Lodge), Telephone +91 3210 240226-227.
Stay Safe :
Carry mosquito and snake repellents.
Carry Electric Torches and other means of Emergency Lights, because Sagar Island does not get power from the main electric supply grid. The Island only gets few hours of power supply in the evening, form a central diesel operated power generating station, situated at Rudranagar. There is complete blackout for the rest of the day/night. But in the time of Sagar Mela (The fair) Sagar gets sufficient supply of electricity for the whole day.
Snake bite is a common feature in Sagar Island specially in farmer & rainy season. There is a sufficient measures for treatment of snake bite in Sagar Gramin Hospital. But it is advisable to avoid travelling at night with insufficient light. Travellers should apply some snake repellents in their room before going to bed. It is better to use a mosquito net to protect oneself not only from mosquitoes, but also from snakes.