Home > Know Sundarban > How to Reach
Last Updated On: 18 May 2018
How to Reach
Travel by Air
The nearest airport to reach Sundarbans is the Netaji Subhash International Airport at Dumdum, Kolkata, which is nearly 112 kilometers away from the Sundarbans. After arriving at Kolkata with flight, one should follow one of the routes which are described below to reach the Sundarbans.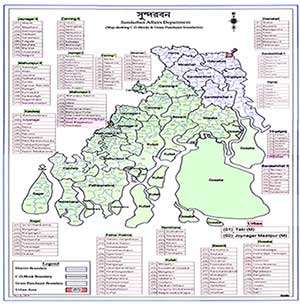 Travel by Rail
The nearest railway station is Canning. It is nearly 48 kilometers away from the Sundarbans. From Sealdah (Kolkata) there are many local trains to Canning throughout the day and then may travel with bus to Namkhana, Raidighi, Sonakhali and Najat from where motorboat services are available for Sundarbans.
Travel by Road
From Esplanade (Kolkata) and Howrah, one can get many buses for go to Namkhana (approx 105 kilometers), Sonakhali (approx 100 kilometers) Raidhighi (approx 76 kilometers) Canning (approx 64 kilometers) and Najat (approx 92 kilometers). Taxi service is also available from Kolkata. All the above mentioned places are in the Sunderbans region and have easy access to waterways.

There are different routes to follow to reach Sundarbans. But Sonakhali and Canning are the best destinations to access the great Sundarbans which are described below:-
• Route 1 : To reach Canning, one may travel by train or it is also accessible by road. From Sealdah, there is plenty of local trains to Canning throughout the day. The trip can be made by bus from Howrah or from Esplanade (Dharmatala) to Baruipur and then auto-rickshaw to Canning. Some bus services are also available directly to Canning. One can manage taxi or private car too. After reach at Canning, one should cross a river with a motorboat and then to reach Sonakhali, there are also share three-wheeler pooling van or Auto-rickshaw. Some private bus also available to reach Sonakhali. From Sonakhali, one can get a regular motorboat to entrance into the Sundarbans forests. Or can go to Gosaba or Sajnekhali by motorboat. Both the destinations are the entry point to the Sundarbans and Sundarbans National Park.
• Route 2 : From Sealdah, one can go to Sonarpur by train or by bus. From Sonarpur to Dhamakhali via Ghatakpukur by Auto or Bus. From there go to Mollakhali by motorboat. And then one should reach at Marijhapi by road. Marijhapi is the entrance into the jungle of Jhongekhali, Sundarbans or to the Buridabri Tiger Project, Sundarbans.
• Route 3 : Another adventurous way to entrance into Sundarbans, from Canning to Basanti and then Jharkhali by boat. From Jharkhali one can manage motorboat and can go to the river Matla and river Bidyadhari through the canal Horadanga and Suryamukhee. In this way one may meet with the Dakshin Ray, Royal Bengal Tiger. Kalas island is also accessible in this route.
• Route 4 : One can also reach at Sundarbans from Jamtala, Raydhighi, Namkhana and Najat. All the destinations are well connected with Kolkata by government and private buses and then booked motorboat to visit in the Sundarbans.
Good to know
WBTDC special tours to Sunderbans: 1N2D or 2N/3D river cruise. 3 hour journey from Kolkata by AC bus to Sonakhali to board, MV Chitralekha or Sarbajaya (WBTDC Luxury launches) Itinerary indudes visit to Sajnekhali, Sudhanyakhali, Dobanki, Burirdhabri Thingakhali Tiger Projects. Sunderbans is also accessible from Bakkhali tourist lodge via Namkhana.
• Staying at : Sajnekhali tourist lodge is the only tourist lodge situated at the core area and close to Project Tiger. Private operators like Sunderban Tiger Camp, Vivada, Help Tourism and others also offers attractive packages including comfortable stay & good food.
• Best time to visit : October to March.