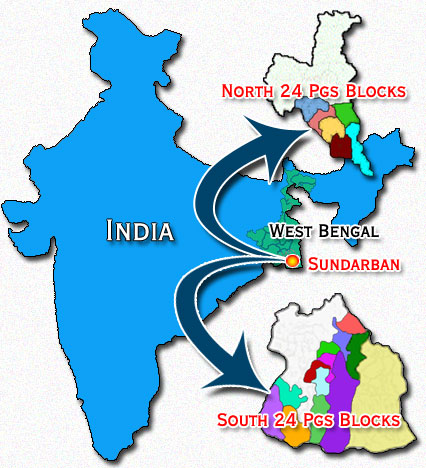 The operation area of Sundarban Affairs Department is spread over 16 Police Stations and 19 Panchayat Samities of South & North 24-Parganas district. The administrative set up of Sundarban Area.
District
Sub-Division
Police Stations
Blocks / Panchayat Samitee
24-Parganas (South)
Kakdwip
Sagar, Namkhana, Kakdwip,Patharpratima
Sagar, Namkhana, Kakdwip,Patharpratima
Diamond Harbour
Mathurapur, Roydighi
Mathurapur-I, Mathurapur-II
Baruipur
Kultali, Joynagar
Kultali, Joynagar-I, Joynagar-II
Canning
Canning, Basanti, Gosaba
Canning-I, Canning-II, Basanti, Gosaba
24-Parganas (North)
Bashirhat
Hingalganj, Hasnabad, Sandeshkhali, Haroa, Minakhan
Hingalganj, Hasnabad, Sandeshkhali-I, Sandeshkhali-II, Haroa, Minakhan.
The Block Profile of Sundarbans showing the demographic features, land use Pattern, irrigation status, agricultural production, academic institutions, medical facilities, financial institutions, fisheries and live stocks, physical infrastructures available etc. will give indication of wide varieties.
Sl. No.
Blocks
HH
TP
TM
TF
TSC
TST
TLT
MLT
FLT
TW
CULT
AL
1
HAROA
46888
214401
111080
103321
50636
12728
136679
75747
60932
73257
57856
19503
2
MINAKHAN
43756
199084
101827
97257
60578
18564
122283
67728
54555
68327
8345
18028
3
SANDESHKHALI-I
37344
164465
83925
80540
50812
42674
100978
56501
44477
61005
7098
16034
4
SANDESHKHALI-II
37771
160976
81921
79055
72300
37695
98805
56205
42600
61479
6887
15034
5
HASNABAD
47739
203262
104019
99243
51295
7492
127403
69699
57704
80077
8540
17049
6
HINGALGANJ
46048
174545
88937
85608
115227
12743
119630
66858
52772
74515
7767
17577
N 24-PGS
259546
1116733
571709
545024
400848
(35.89%)
131896 (11.81%)
705778 (63.20%)
392738
(68.70%)
313040 (57.55%)
418660 (37.49%)
49015
103225
7
CANNING-I
64041
304724
155126
149598
144906
3710
184241
103611
80630
108848
10586
13380
8
CANNING-II
49711
252523
128438
124085
52859
14910
139058
77784
61274
83899
8733
20425
9
MATHURAPUR-I
40602
195104
100093
95011
68636
496
123647
69311
54336
64219
4498
10263
10
MATHURAPUR-II
45888
220839
113831
107008
62342
4643
151186
85316
65870
80895
13387
17382
11
JOYNAGAR-I
55734
263151
134966
128185
102645
80
165987
93228
72759
89248
6092
13091
12
JOYNAGAR-II
50413
252164
128858
123306
85587
1046
148676
84612
64064
93240
11826
15802
13
KULTALI
45099
229053
117562
111491
104193
5672
134101
78601
55500
87670
13838
19102
14
BASANTI
70818
336717
171279
165438
119631
20060
195366
110229
85137
132044
18586
27453
15
GOSABA
58197
246598
125910
120688
154584
23343
172781
96642
76139
110996
14425
23194
16
KAKDWIP
60201
281963
144120
137843
97944
1836
192692
106726
85966
100663
10440
14625
17
SAGAR
43716
212037
109468
102569
56261
854
156476
87052
69424
84881
13785
14463
18
NAMKHANA
41433
182830
93351
89479
47260
741
138177
75314
62803
65889
11421
10839
19
PATHAR PRATIMA
69641
331823
169422
162401
76163
2640
237955
131063
106892
141001
17007
24312
S 24-PGS
695494
3309526
1692424
1617102
1173011 (35.44%)
80031
(2.42%)
2140343 (64.67%)
1199489 (70.87%)
940854 (58.18%)
1243503
154624
224331
TOTAL SUNDARBANS
955040
4426259
2264133
2162126
1573859
211927
2846121
1592227
1253894
1662163
203639
327556
(%)
35.56
4.79
64.30
70.32
58.00
37.55
Demographic Information of Sundarban region as per 2011 Census
Person / household – 4.63, Person / sqkm – 996, Male: Female - 1000:955, Decadal Growth Rate – 15%, % of TW irt TP – 38, % of Cultivators irt TP – 4.6, % of Agril. Labourers irt TP – 7.4
Note: TP – Total Persons, TM- Total Male, TF – Total Female, TSC – Total Scheduled Castes, TST – Total Scheduled Tribes, TLT- Total Literates, MLT – Male Literates, FLT – Female Literates, TW- Total Workers, CLT – Cultivators, AL – Agril. Labourers